Services Related to Hiring International Employees


HIRING
We can recommend areas suitable for candidate profiles demanded and take care of hiring the right number of suitable candidates (pre-screening, meeting criteria required).


SELECTION PROCEDURE
We can organise open selection procedures in the country of your choice and written and professional testing of candidates, including translation of materials and arranging for interpreters, spaces and equipment.


br>
TESTING CANDIDATES
Based on your requirements and the profile of non-qualified position, we can test candidates ourselves (e.g. testing manual skills).


VISAS
We can offer professional advice and, in cooperation with the candidates and the client, arrange for documents needed and guide you through the process of work visa application and obtention.


TRANSPORT
We can organize transport of successful candidates to the Czech Republic, arrange for travel insurance and entry medical examination.


COORDINATOR
We can arrange for coordinators/interpreters who are there for international employees at work and outside of it.
Where to Hire International Employees
HIRING EMPLOYEES IN EU COUNTRIES
Bulgaria
Croatia
Italy
Poland
Spain
Greece
HIRING EMPLOYEES FROM NON-EU COUNTRIES
Ukraine
Serbia
Macedonia
Philippines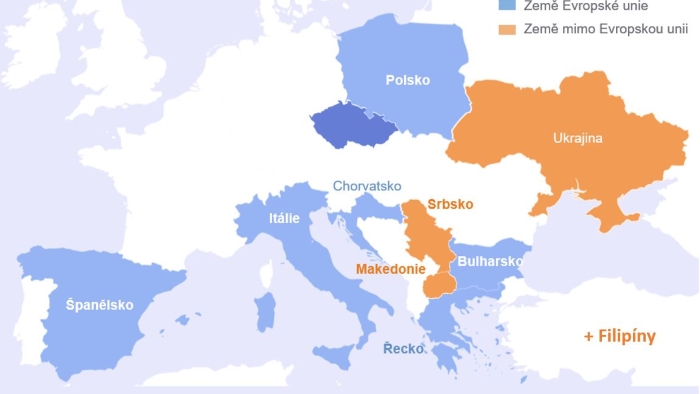 EXAMPLES OF JOB PROFILES
br>
Non-qualified positions: Production Operator, Warehouse Keeper w/o Forklift, Assembly Worker, Auxiliary Tasks
Qualified positions: Welder, CNC Machine Operator, Lathe Operator, Milling Machine Operator, Warehouse Keeper w Forklift, Locksmith, Grinder Operator, Butcher, Car Mechanic, Coachbuilder, Varnisher, Electrician, Electrical Mechanic, Binder
IT & Engineering positions: EUS Helpdesk, SSC Specialist, IT Programmer, Technical Engineer
Where We Look for Suitable Candidates
Companies in the Czech Republic have many years of experience with workers from third countries. Among those, Ukrainian workers are one of the strongest groups. Manpower's data show that these candidates are characterized by their high quality and reliability. In a recently carried round of selection procedure for Production Operator positions 142 out of 162 invited candidates came, and 124 of those were deemed suitable, a very high percentage compared to Czech candidates (only ca. 30% of 100 applicants for positions in production or warehouses come for the interview, and only 10 of them on average eventually start). Add to this fast and easy integration of Ukrainian workers thanks to cultural and language closeness (it takes about 3 months for them to speak elementary Czech). Ukrainian employees offer a large portfolio of skills and professions, including skilled workers such as Tool Setter, Metallurgist, Welder, etc. However, companies have to take into account high salary requirements, the initial need for interpreter, and a period of 6–8 moths needed for full integration into the process due to visa requirements.
While we can find the most suitable candidates in Ukraine, the process is slowed down due to visa obligations. If you look for speed, then hiring in EU countries such as Bulgaria or Croatia is more convenient. Candidates from these countries are of high quality but their numbers don't cover the demand. This year, ManpowerGroup found 700 Bulgarian employees for Czech companies, but the number of applicants is dropping slowly each month. We are now able to find 150-150 candidates per month in Bulgaria.
Geographical closeness makes Poland another option. Polish candidates do well especially in border areas suffering from high unemployment rate on the Polish side. Numbers in this region average 50 persons per month.
A relatively recent source of workforce is Greece with some 150-200 candidates per month. Another suitable region is Romania and we've also noticed a significant increase of employees from Serbia.
When hiring Programmers and Customer Service Staff, Spain and Portugal prove to be a good option as people from all of Europe work in Spanish and Portuguese technological centres and they tend to frequently change their work destination.
Hiring Abroad & How Does It Work:
Despite global virtualisation of the labour market, only qualified employees can be approached efficiently by online means. In Manpower, we use primarily LinkedIn and specialized social networks in the IT sector. We also use international job search websites and purchased databases of job applicants. Interviews can be held, among other options, over Skype.
Since hiring employees for production sites can't be done online, it most often takes the form of personal communication with people in their home towns, uses elements of referral marketing (recommending acquaintances for a reward) and social networks (primarily Facebook). Manpower makes use of its branches in those countries and also addresses applicants via field workers – recruitment officers. In case of specific requirements, participation of the employer is advisable: employer for whom we organize the hiring can assist the qualification and skills testing of the candidates. Such approach can significantly simplify the entire process, especially in countries where granting work visas takes time.
However, hiring and signing a contract doesn't mean it's all done. Employees need assistance with visas, transport to the Czech Republic, accommodation reimbursed by the employer, entry medical exams, and a number of small details comprised in the information & assistance services package which simplifies the daily life a great deal. For IT Specialist and Manager positions, the employer usually participates at the cost of the plane ticket and offers a relocation package, which can have the form of a one-time incentive of a minimum of 1,000 euros for easier relocation. The employer also helps the employee to find an appropriate apartment prior to his/her arrival.
Reference
We are currently looking for manufacturing, specialized and multilingual profiles for more than 30 companies in manufacturing, logistics, IT and shared services centers. We can send you a specific case-study on request, if interested, feel free to contact us.